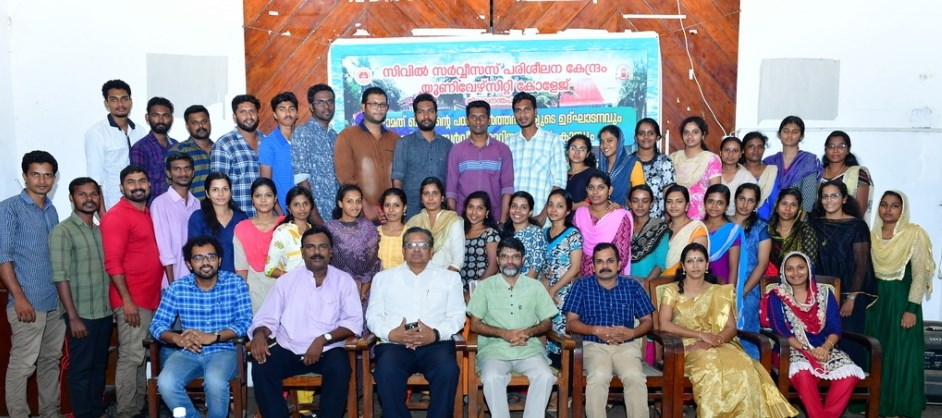 Civil Services Coaching Centre (CSCC) was established in the College in 1960 as an independent Sub Centre by the Department of Higher Education , Government of Kerala, providing free coaching to eligible candidates appearing for All India Civil Services Examination  (CSE) conducted by the Union Public Service Commission. It has successfully completed 80 batches of students for the Preliminary and Main Examinations of CSE.  CSCC is equipped with modern teaching and learning facilities such as LCD and has well experienced faculty comprising Retired Professors and Teachers from different departments of the College as well as outside.
Professor in Charge : Dr. V S Anil Kumar, Mob. #9496 370 425
Librarian:  Ms. Bindu R B, Mob. #8075 203 646
---
Facilities offered:
Reference facility in the College general Library during working hours
Reference section and book borrowing from the CSCC library
Competitive examination magazines and journals
Browsing facility at the OERC during College working hours
Course duration: Six months
Class Timings : 3:30 p.m. to 6:30 p.m. (Monday to Friday)
---
Courses:
CSCC offers coaching of two batches of candidates every year for the CSE. Course duration is six months from January to June and July to December. Course structure is designed to give integrated and extensive training for both the preliminary and main examinations. The centre currently offers intensive coaching for preliminary papers of CSAT –I and II, General Studies papers of Main examination. The centre also offers guidance and learning support for the selected optionals for the main examination.
Options offered: Economics, Geography, History, Politics,Public Administration
Course Module:
1. Current events and national and international importance
2. History of India and Indian National Movement
3. India and World Geography- Physical, Social, Economic Geography of India and world.
4. Indian Polity and governance – Constitution, Political system, Panchayat Raj, Public policy, etc.
5. Economic and Social Development, Sustainable development, Poverty, Demography social sector etc.
6. General issues on Environmental Ecology, Biodiversity and Climate Change, etc.
7. General Science
8. Comprehension, English language, comprehension skills
10. Logical reasoning and analytical ability
11. Decision making and problem solving
12. General mental ability
13. Basic numerals (Numbers and their relations, Orders of magnitude etc. ) Data interpretation (Charts, Graphs, Tables etc.)
14. Indian heritage and culture, History and geography of the world and society
15. Governance, constitution, Polity, Social justice and International Relations
16. Technology, Economic development, Biodiversity, Environment, security and Disaster Management.
17. Ethics, Integrity and Aptitude.
Mode of selection: Graduates and final year graduation students in any discipline can apply for the admission. The candidates will be selected on the basis of an entrance examination and interview. The entrance examination is of objective type (multiple choice questions), comprising 60 questions for a duration of one hour. Qualified candidates will be selected for the interview and admission. Ten percentage of the total seats are reserved for SC / ST candidates. Sanctioned strength is 50
---
Application: The candidates can either apply online in the website http://univcsc.com or download the form the same website and submit by hand.
The candidates need to remit an application fee of Rs 100/- on the day of the Entrance Examination.
The applications should reach the CSCC office latest by 28/11/2022.
Admission Schedule:
Commencement of issue of application : 07/11/2022
Last date of closure of application : 28/11/2022
Date of the Entrance examination : 03/12/2022
Publication of rank list : 05/12/2022
Details regarding the admission, course structure and fee can be found here
For applying online, visit the website http://univcsc.com/registration-page/
Or else, click here for downloading the application which is to be filled and submitted at the CSCC Office
Certificates to be produced at the time of interview (Original and True copies):
1. Certificate of the qualifying examination (Degree BCom./BA/BSc/BTech/MBBS/BDS/BAMS etc).
2. Certificate to prove age and date of birth.
3. Community certificate in the case of SC/ ST candidates
4. Recent conduct certificate
5. Two passport size photos
---
For more details, visit website of Civil Services Coaching Centre http://univcsc.com  or contact the Professor-in-charge or Librarian over phone.
Address for communication:
Dr. V.S. Anil Kumar
Professor – in- Charge , Civil Services Coaching Centre,
UniversityCollege, Thiruvananthapuram
PIN 695 034