Assistant Professor & Head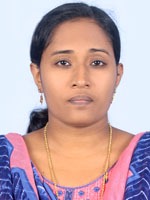 Department of Biochemistry
@  jsheenabios-at-gmail.com
# +91-9496.583.372
---
Academic Qualifications
Ph.D from University of Kerala
M.Sc Biochemistry from University of Calicut with First Rank,
---
Experience
Assistant Professor at University College (2019- till date)
Assistant Professor at Government Arts and Science College, Kulathoor (2019 Feb- 2019 July).
Junior Research Fellow at Rajiv Gandhi Centre for Biotechnology (2013- 2018).
---
Additional Responsibilities



Nodal Officer, Scholarship
---
Journal Publications
Sheena Philip, Greeshma Tom, Padmaja Balakrishnan Nair, Sankar Sundaram and Asha Velikkakathu Vasumathy (2021). Tinospora cordifolia chloroform extract inhibits LPS-induced inflammation via NF-κB inactivation in THP-1cells and improves survival in sepsis. BMC Complementary Medicine and Therapies, 21:97.
Sheena Philip, Greeshma Tom and Asha V. Vasumathi (2018). Evaluation of the anti-inflammatory activity of Tinospora cordifolia (Willd.) Miers chloroform extract – a preclinical study. Journal of Pharmacy and Pharmacology, 70:1113–1125.
Greeshma Tom, Sheena Philip, Rimal Isaac, P.K. Praseetha, S.G. Jiji, V.V. Asha (2018). Preparation of an efficient and safe polymeric-magnetic nanoparticle delivery system for sorafenib in hepatocellular carcinoma. Life Sciences 206: 10-21.
M.S. Sheeba, Sheena Philip, Greeshma Tom, L.T. Gayathri and V.V. Asha (2016). Comparative evaluation of the efficacy of Cardiospermum halicacabum Linn. on indomethacin, pylorus ligation and Helicobacter pylori induced gastric ulcer in rats. Annals of Phytomedicine, 5(1):1-9.
---